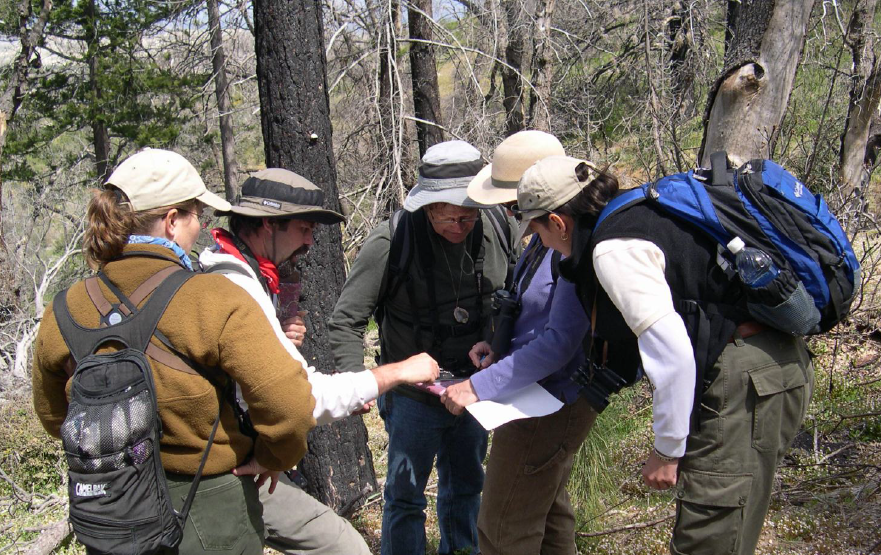 Contribute to the USNVC
There are four ways to contribute to the USNVC: collecting plot data based on the methodology established in the Standard, submitting plot data to VegBank, proposing changes to concepts (or suggesting a new concept altogether), and volunteering as a reviewer or Associate Editor.

Collect plot data based on the standard. The best classifications come from analyzing plot data, and thus the more comprehensive the plot data, the better. Often classifications are limited by too few plots within too small of a geographic area and by plot data collected and analyzed in a variety of nonconforming ways. Collecting plot data based on the NVC Standard (as detailed in FGDC 2008) and analyzing such data with standard methods (Jennings et al. 2009; Peet & Roberts 2012) will provide the basis for developing a fully realized, plot-based classification of the US vegetation.


Submit plot data to VegBank. VegBank (www.vegbank.org) is the open-access vegetation plot database served by the ESA Panel on Vegetation Classification (see Peet et al. 2012 for information). It provides reliable storage and sharing of data, a comprehensive search function, a user-friendly interface that enables meta-analysis, and integration with both vegetation type and plant taxon databases. Submitting collected plot data to the VegBank database will allow database users to conduct analyses of greater community variability and spatial breadth than can be conducted by a single project. To broaden database opportunities, the NVC partners are seeking additional institution, organization, or program databases that can house NVC data and can share data with VegBank.


Propose changes to Concepts or suggest a new Concept. The USNVC is a dynamic classification – our knowledge is incomplete, and we expect to discover new vegetation types over time. Proposals to change concepts at any level are always welcome, are prepared by following formal submission procedures, and are submitted through a professional peer review process. Proposals can be based on new plot data and/or on analysis of current literature. Proposals may either modify existing concepts or propose entirely new concepts. If the proposal is accepted, the changes will be published in an online proceedings with historical documentation of the changed concept. As with species taxonomy, synonymies of previous concept names will be maintained.


Volunteer as a reviewer or Associate Editor. The NVC Partners seek volunteers to review classification descriptions among the hierarchy levels that are still being developed. We are looking for people with expertise in plant communities and community classification, and knowledge of specific vegetation regions. Associate Editors of the ESA Peer Review Board welcome volunteers to assist in such a review. Volunteers who wish to be more directly engaged in the peer review process can become an Associate Editor and help to oversee the peer review process itself.  Contact the ESA Vegetation Classification Panel for more information.


Participate in the USNVC
Here are some examples of the ways you can get involved with the National Vegetation Classification.
Contact
NVC Implementation Manager Alexa McKerrow
NatureServe Don Faber-Langendoen