The USNVC is used by a variety of federal and non-federal groups and agencies for diverse applications. Check out some of examples of specific applications of the USNVC below:
---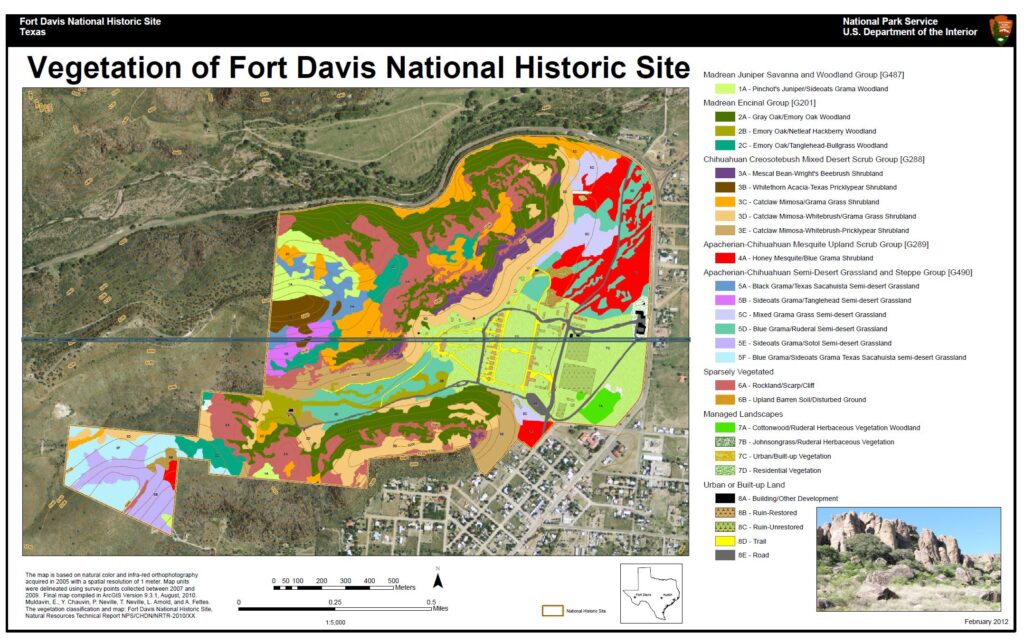 Modeling and mapping wildlife habitat
The USNVC is used by the USGS Gap Analysis Program (GAP) to assess and support the overall conservation status of wildlife. The habitats of common, unthreatened plants and animals have been crosswalked to the USNVC to conduct a GAP Analysis of USNVC Groups and Macrogroups. Such maps show where biodiversity conservation lands are, how much a specific plant community or animal species' habitat is held by each type of management organization, which areas host the most species, and how much of a species' habitat is on protected lands.

Land Inventory and Mapping Programs
The National Park Service's Inventory and Monitoring Program uses the USNVC to develop accurate vegetation classifications in the nation's national parks. This information is used to create high-resolution vegetation maps to support natural resource management and conservation. Furthermore, using the consistent standard allows the NPS to collaborate effectively with additional agencies to support natural resource management.

Fire Management Planning and Modeling
LANDFIRE, a partnership between the wildland fire management programs of the United States Department of Interior, the USDA Forest Service, and the Nature Conservancy, uses the USNVC to scale its map legend in efforts to support wildland fire management. This allows the creation of dynamic models and high-resolution maps of biophysical setting, current vegetation type, structure, and fire regime.

In 2016, LANDFIRE integrated USNVC Groups as a separate spatial layer with LANDFIRE Remap. Remap data can be used for a variety of ecological applications in addition to fire-related and land management decisions. For example, the Gap Analysis Program (GAP) has teamed-up with LANDFIRE to use Remap products in wildlife habitat conservation status assessments. Learn more about LANDFIRE here.

Setting national vegetation policies
The US Forest Service's Forest and Inventory and Analysis Program (FIA), analyzes, reports, and distributes data about the Nation's forest resources. The FIA is linking its plot data to the USNVC alliance level, improving the FIA's ability to monitor the status and trends of the nation's forests.

Enhancing local conservation efforts
See this presentation from the Colorado Natural Heritage Program to learn about how this non-profit uses the USNVC to protect rare communities.

Crosswalking to ensure cross-agency collaboration
Federally funded vegetation classification projects must collect, record, and classify data and information in a manner that allows others to "crosswalk" their vegetation classes to some level of the USNVC Cross-walking increases collaboration across ownership boundaries and helps to manage and identify landscape trend. For example, the US Forest Service crosswalks to the USNVC Macrogroup, Group and Alliance from the Society of American Foresters Forest Cover Types and from the Society for Range Management Rangeland Cover Types. This ensures a common useful language between foresters, range managers, and scientists and users both within and outside of the Forest Service, Bureau of Land Management, and Natural Resource Conservation Service.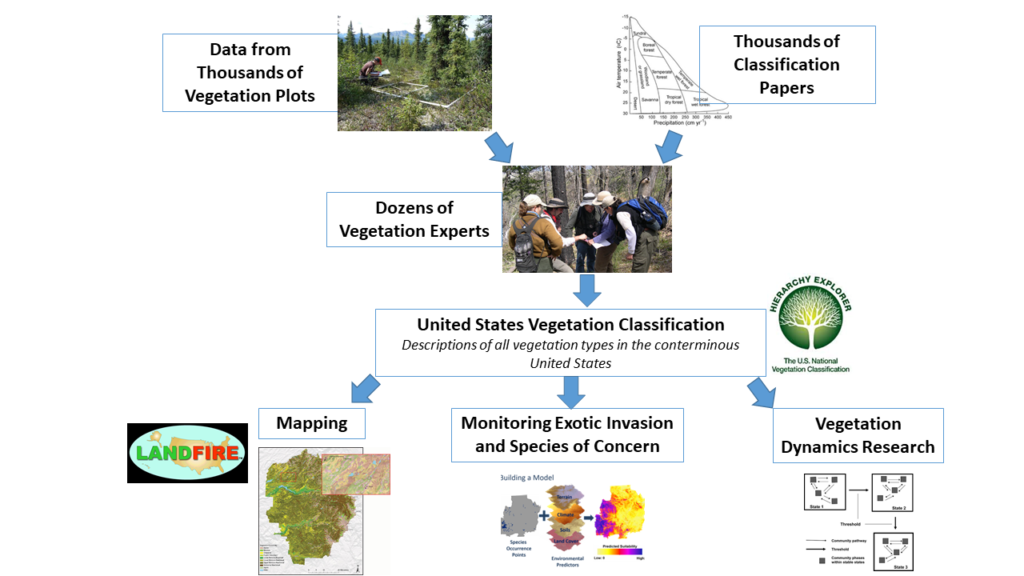 ---
For more examples, check out these resources from the USNVC session of the Ecological Society of America's 2017 annual meeting.