Overview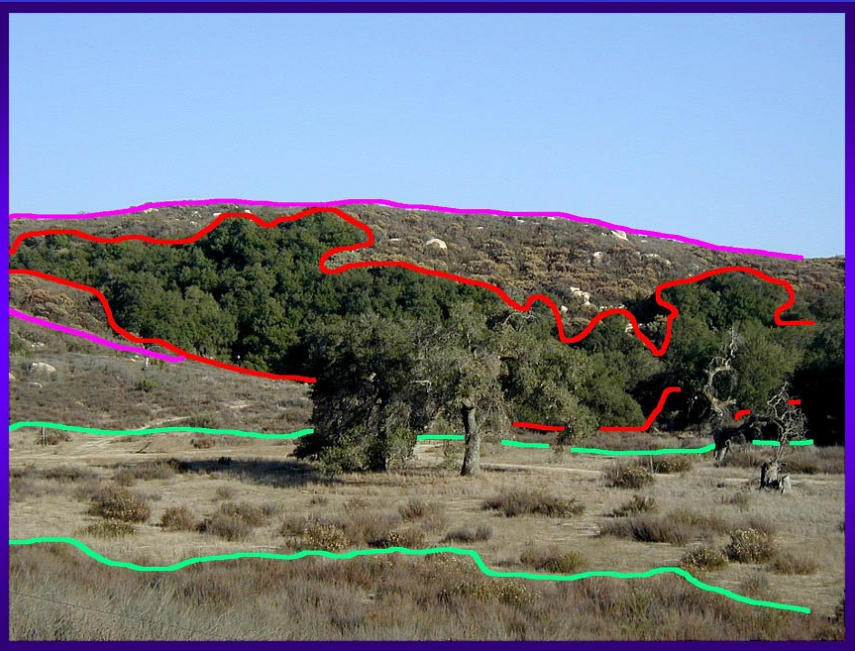 A plant community is an assemblage of plants that co-exist in a similar environment    Different communities are defined by their structure, form, and/or species composition.  At broad scales vegetation types are based strongly on shared growth forms that dominate an area and reflect patterns of climate, substrate and disturbances.  At fine scales, vegetation types are based on assemblages of plant species that co-occur in an area and are linked by their interactions with each other and their environment.   At all scales, vegetation types can be described by repeating patterns in species composition and/or, growth forms and structure and relationships to the environment in which they are found.  Vegetation classification is the process of grouping stands of vegetation together based on those shared characteristics.  As with any taxonomy, vegetation classification is used to simplify the complex patterns in order to communicate and share information.
The National Vegetation Classification and Standard
In 1997 the first U.S. National Vegetation Classification Standard was adopted and the first Classification was approved.  It is important to distinguish between the National Vegetation Standard and Classification. The Standard represents the collective set of rules and guidelines for setting and approving the structure of the vegetation hierarchy.  The Classification represents the end result of applying the Standard –or said another way the fully listed vegetation hierarchy. Problems emerged related to mapping the 1997 hierarchy that ultimately led to the development and approval of both a second National Vegetation Standard and Classification in 2008.  This second standard is "dynamic" in that it outlines a process for incorporating new information into the hierarchy as the scientific body of knowledge continues to grow.  The 2016 National Vegetation  Classification  is the newest and most up to date classification now available.  It is based on the standard adopted in 2008.  One of the key new features is that it contains more detailed, lower level classifications that include the alliance and association levels.
The Vegetation Classification Standards is driven by this vision:
The Vegetation Classification Standard enables federal agencies to produce uniform statistics about vegetation resources across the nation, facilitates interagency cooperation on vegetation management issues that transcend jurisdictional boundaries, and encourages non-Federal partners to utilize and contribute to a common system when working with their Federal partners.
WHY THE STANDARD IS IMPORTANT
The National Vegetation Classification provides a common language for the effective management and conservation of plant communities in the U.S.  Land management agencies are actively engaged in inventory and monitoring vegetation resources across the nation.  The common language provided by the standard increases the return on those individual investments and allows the development of efficient strategies for guiding future work to improve our understanding of the resource.  And it's about more than just plants.  The classification supports wildlife conservation and forest fire management.
Modeling and mapping wildlife habitat
Enhancing natural resource conservation efforts – choosing the best locations for reserves and wildlife areas
Fire management planning and modeling
Studying patterns of vegetation change over time due to climate change and other causes
Managing invasive species
Land inventory and mapping programs (public and private)
Setting national vegetation policies (e.g., biofuels, carbon markets, ecosystem services)
Developing national cropland statistics

Left: Sage-grouse with populations limited by winter habitat.
Middle: Map of the Great Basins Floristic Province.
Right: Map of Sage-grouse potentially impacted by fire (Dunn et al. 2015).
References:
Arkle, R.S., D. S. Pilliod, S. E. Hanser, M. L. Brooks, J. C. Chambers, J. B. Grace, K. C. Knutson, D. A. Pyke, J. L. Welty, and T. A. Wirth 2014. Quantifying restoration effectiveness using multi-scale habitat models: implications for sage-grouse in the Great Basin. Ecosphere 5:art31. http://dx.doi.org/10.1890/ES13-00278.1
Dunn, L.  J. Lonneker, A. Davidson.  2015.  Great Basin LCC Biodiversity Status and Fire:  An Enhanced Gap Analysis.  Poster Presentation for the Great Basin Consortium Conference. Feb 17-19, 2015, Boise, ID.
Fire Modeling Institute, USDA Forest Service, Rocky Mountain, 20141222, Wildfire Hazard Potential (WHP) for the conterminous United States (270-m GRID), v2014 classified [whp2014_cls].)
LANDFIRE.2009 LANDFIRE 1.0.0 Existing vegetation type layer. U.S. Department of the Interior, Geological Survey.
LANDFIRE. 2011. LANDFIRE 1.1.0 Existing vegetation type layer. U.S. Department of the Interior, Geological Survey.